How I purchased my First Share on Zerodha?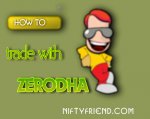 Buying your first share or stock is an experience, isn't it? When I bought my first share on Zerodha it seemed amazing to me and I felt like an investor.
This is indeed a great feeling. To make this feeling a better one Zerodha has multiple options for buying shares that are hassle-free and easy to use for even a novice investor.
So, I would like to tell you about my experience of buying the first share on the Zerodha platform. I bought it using the Zerodha Kite platform which is one of the most advanced trading platforms that you can use in recent times.
However, the first step to buy the share is to open a trading and Demat account with Zerodha. You can open the account in a few easy steps and then get started with your investment.
Now once you have your trading and Demat account on Zerodha, and downloaded the Kite app or desktop terminal software, you have to log in, and then you can see multiple options.
You can also create a market watchlist which I did and added all my favorite shares to the list. Then I clicked on the share I wanted to purchase, check its price and other details. When the price was as per my anticipated price for buying, I clicked on the 'BUY' option.
Then I entered the number of shares I want to purchase/ Units, price (bid), and other details and clicked enter and got my first share in my Demat account.
This is how I bought my first share on Zerodha. With Zerodha it was really easy buying the first stock of my life as it provides –
Easy account opening with nominal fees
Multiple trading software
Multiple analytical tools for your research on stocks.